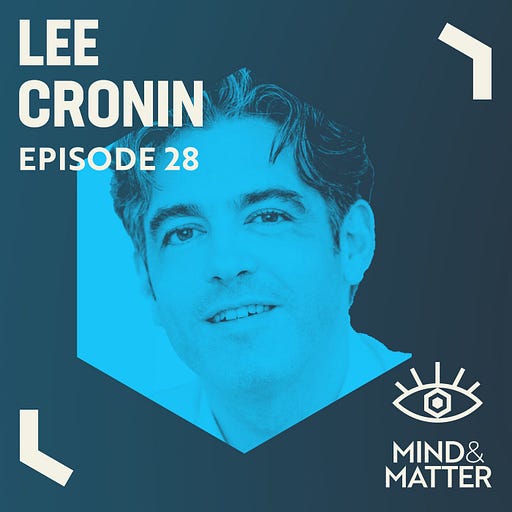 Jun 25, 2021 • 1HR 43M
Lee Cronin: Life's Origins, Alien Biochemistry, Assembly Theory, Discovering Life Beyond Earth | #28
Conversations with scientists, thinkers, and entrepreneurs about how drugs, biotechnology, and science impact our bodies & minds. Learn more at: www.nickjikomes.com
Nick talks to chemist Dr. Lee Cronin about life: how it originated on Earth, how we might detect signs of alien life in the universe, whether it can be created in the lab, and related topics. Lee talked about his work on "assembly theory," which provides a framework for thinking about these questions and providing an unbiased way to detect signatures of life in the universe. They also discussed how some of these ideas might relate to evolution, selection, consciousness, and time.

USEFUL LINKS:
Download the podcast & follow Nick at his website
[www.nickjikomes.com]

Support the show on Patreon & get early access to episodes
[https://www.patreon.com/nickjikomes]

Sign up for the weekly Mind & Matter newsletter
[http://eepurl.com/hFlc7H]

Try MUD/WTR, a mushroom-based coffee alternative
[https://www.mudwtr.com/mindmatter]
Discount Code ($5 off) = MINDMATTER

Organize your digital highlights & notes w/ Readwise (2 months free w/ subscription)
[https://readwise.io/nickjikomes/]

Start your own podcast (get $20 Amazon gift card after signup)
[https://www.buzzsprout.com/?referrer_id=1507198]

Buy Mind & Matter T-Shirts
[https://www.etsy.com/shop/OURMIND?ref=simple-shop-header-name&listing_id=1036758072&section_id=34648633]

Connect with Nick Jikomes on Twitter
[https://twitter.com/trikomes]
​​​
Learn more about our podcast sponsor, Dosist
[https://dosist.com/]

ABOUT Nick Jikomes:
Nick is a neuroscientist and podcast host. He is currently Director of Science & Innovation at Leafly, a technology startup in the legal cannabis industry. He received a Ph.D. in Neuroscience from Harvard University and a B.S. in Genetics from the University of Wisconsin-Madison.
Support the show (https://www.patreon.com/nickjikomes)