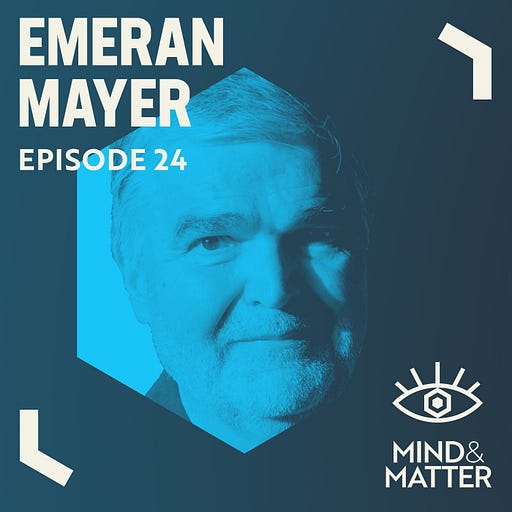 May 28, 2021 • 1HR 50M
Emeran Mayer: Microbiome, Gut Health, Probiotics, Dieting & Fasting | #24
Conversations with scientists, thinkers, and entrepreneurs about how drugs, biotechnology, and science impact our bodies & minds. Learn more at: www.nickjikomes.com
Nick talks to gastroenterologist and neuroscientist, Dr. Emeran Mayer. Emeran is a distinguished professor at UCLA and an expert in gut health and the microbiome. His last book was titled, "The Mind-Gut Connection: How the Hidden Conversation Within Our Bodies Impacts Our Mood, Our Choices, and Our Health." His latest book builds on this, and is titled, "The Gut-Immune Connection."

USEFUL LINKS:
Download the podcast & follow Nick at his website
[www.nickjikomes.com]

Support the show on Patreon & get early access to episodes
[https://www.patreon.com/nickjikomes]

Sign up for the weekly Mind & Matter newsletter
[http://eepurl.com/hFlc7H]

Try MUD/WTR, a mushroom-based coffee alternative
[https://www.mudwtr.com/mindmatter]
Discount Code ($5 off) = MINDMATTER

Organize your digital highlights & notes w/ Readwise (2 months free w/ subscription)
[https://readwise.io/nickjikomes/]

Start your own podcast (get $20 Amazon gift card after signup)
[https://www.buzzsprout.com/?referrer_id=1507198]

Buy Mind & Matter T-Shirts
[https://www.etsy.com/shop/OURMIND?ref=simple-shop-header-name&listing_id=1036758072&section_id=34648633]

Connect with Nick Jikomes on Twitter
[https://twitter.com/trikomes]
​​​
Learn more about our podcast sponsor, Dosist
[https://dosist.com/]

ABOUT Nick Jikomes:
Nick is a neuroscientist and podcast host. He is currently Director of Science & Innovation at Leafly, a technology startup in the legal cannabis industry. He received a Ph.D. in Neuroscience from Harvard University and a B.S. in Genetics from the University of Wisconsin-Madison.
Support the show (https://www.patreon.com/nickjikomes)